1. WILDLIFE OF MIZORAM

Mizoram is flanked by Myanmar on the east and south, and Bangladesh on the west; in terms of biodiversity habitat, it falls within the Indo-Malayan bio-geographic region. However, according to Biogeographic Classification of India prepared by Wildlife Institute of India, Mizoram falls wihtin the North East Biogeographic Zones. Perched on the high hills of the eastern corner of India, Mizoram is a home of rich variety of flora and fauna distributed in its lush green, diversified terrain with steep slopes separated by rivers rolling towards north and south. With its deep gorges between the hills and falls, green valleys and streams, Mizoram is blessed with natural beauty.
Apart from its natural beauties, Mizoram is host to numerous species of birds, wildlife and flora. Mammal species observed in Mizoram forests include Slow loris Nycticebus coucang (Sahuai), the state animal Red Serow Capricornis rubidus (Saza), Goral Nemorhaedus goral (Sathar), Tiger Panthera tigris (Sakei), Leopard Panthera pardus (Keite), Clouded Leopard Neofelis nebulosi (Kelral), Leopard Cat Prionailurus bengalensis (Sanghar), and Asiatic black bear Ursus thibetanus (Savawm), Sun bear Helarctos malayanus (Samang/mangthir). The state is also home to many reptiles, amphibians, fish and invertebrates.
The state is a habitat for 8 species of primates such as Hoolock gibbon Hoolock hoolock (Hauhuk), Capped Langur Trachypithecus pileatus (Ngau), Phayre's leaf monkey Trachypithecus phayrei (Dawr), Stump tailed macaque Macaca arctoides (Zawngmawt),Pig tailed macaque Macaca nemestrina (Zawngmawt), Assamese macaque Macaca assamensis (Zawng), Rhesus macaque Macaca mulatta (Zawng) and Slow Lorris Nycticebus coucang (Sahuai).

Among the cats families, Tiger Panthera tigris (Sakei/Keipui), Leopard Panthera pardus (Keite), Clouded Leopard Neofelis nebulosi (Kelral), Golden Cat Catopuma temminckii (Keisen), Jungle Cat Felis chaus (Sauak), Leopard Cat Prionailurus bengalensis (Sanghar), Marbled Cat Pardofelis marmorata (Sate) and Fishing Cat Prionailurus viverrinus (Ngharbawr) are present in the State.
Lesser carnivore found in the state includes Small Clawed Otter Aonix cinereus(Sahram/sahramte), Common otter Lutra lutra(Sahram), Yellow bellied weasel Mustelia kathiah(Sarivaithun), Striped backed weasel Mustela Strigidorsa (Sarivaithun), Hog badger Arctonix collaris(Phivawk), Yellow throated marten Martes flavigula(Safia), Large toothed ferret badger Melogale moschata (Sahmaitha), Small toothed ferret badger Melogale personata(Sahmaitha), Small Indian mongoose Herpestes palustris (Sarivaithun), Grey mongoose Herpestes edwardsii (Sarivaithun), Crab eating mongoose Herpestes urva (Saphairuang), Spotted linsang Prionodon pardicolor (Ngharthingawn), Binturong Arctictis binturong (Zamphu), Small toothed palm civet Arctogalidia trivirgata (Sazaw), Himalayan palm civet Paguma larvata (Zawbuang), Common palm civet Paradoxurus hermaphroditus (Zawhang/sazaw), Small Indian Civet Viverricula indica (Tlumherh), Large Indian Civet Viverra zibetha (Tlumpui).
Herbivores such as Sambar Rusa unicolor (Sazuk), Barking Deer Muntiacus muntjak (Sakhi), Goral Naemorhedus (Sathar), Red Serow Capricornis rubidus (Saza); mega herbivores such as Elephant Elephas maximus (Sai) and Gaur Bos gaurus (Ramsial) are also found.
2. PROTECTED AREAS OF MIZORAM
With increasing population, biotic pressure and increasing developmental activities, the unique habitat has become fragmented and vulnerable to disturbance. For protecting, propagating or developing wild life and its environment, the State Government have notified 10 Protected Areas in the state. The Protected Area covers about 8% of the total geographical area of the state. The Protected Areas of Mizoram are listed under:
2.1 List of Protected areas
S.No.

Name of Protected Area

Area in sq.km

District

Notification No. & date

1

Dampa Tiger Reserve

500 core

488 buffer

Mamit

No.B.11011/14/90-FST of 7.12.1994

2

Murlen National Park

100

Champhai

No.B.12012/5/99-FST of 24.01.2003

3

Phawngpui National Park

50

Lawngtlai

No.B.12011/5/91-FST of 22.07.1997

4

Ngengpui Wildlife Sanctuary

110

Lawngtlai

No.B.12012/4/91-FST of 22.07.1997

5

Khawnglung Wildlife Sanctuary

35.75

Lunglei

No.B.12012/10/96-FST of 12.10.2000

6

Lengteng Wildlife Sanctuary

60

Champhai

No.B.12012/15/94-FST of 31.05.2002

7

Tawi Wildlife Sanctuary

35

Aizawl

No.B.12012/1/91-FST of 16.11.2001

8

Thorangtlang Wildlife Sanctuary

50

Lunglei

No.B.12012/17/2001-FST of 23.04.2002

9

Pualreng Wildlife Sanctuary

50

Kolasib

No.B.12012/19/01-FST of 29.07.2004

10

Tokalo Wildlife Sanctuary

250

Saiha

No.MADC 68/E&F/2006-2007/63 of 01.10.2007




Total

1728.75





3. MANAGEMENT

Chief Wildlife Warden with headquarter at Aizawl, is the head of Wildlife and at present, the post is held by Principal Chief Conservator of Forests, who controls all Protected areas for management, conservation, administration, planning, project formulation, monitoring and evaluation. The headquarter Office of the Chief Wildlife Warden, Mizoram is located at Tuikhuahtlang, Aizawl. He is assisted by Conservator of Forest (CF) and ACF(WL). Under his control and supervisions are Aizawl Wildlife Division Aizawl, Chhimtuipui Wildlife Division, Lawngtlai, Khawzawl Wildlife Division, Khawzawl and Dampa Tiger Reserve.
3.1 Incumbency of the Chief Wildlife Warden of Mizoram
| | | | |
| --- | --- | --- | --- |
| Sl.No. | Name of CWLW | From | To |
| 1 | Shri SR Mehta IFS | 19.11.85 | 22.09.89 |
| 2 | Shri C.Ramhluna IFS | 25.10.89 | 11.07.94 |
| 3 | Shri AK Sinha IFS | 12.07.94 | 05.01.95 |
| 4 | Shri Lalram Thanga IFS | 05.01.96 | 11.03.96 |
| 5 | Shri AK Sinha IFS | 11.03.96 | 18.08.97 |
| 6 | Shri Lalram Thanga IFS | 19.08.97 | 11.01.98 |
| 7 | Shri PV Savant IFS | 12.01.98 | 01.03.99 |
| 8 | Shri GN Roy IFS | 01.04.99 | 17.05.99 |
| 9 | Pu T.Millang IFS | 17.05.99 | 12.09.03 |
| 10 | Shri C.Ramhluna IFS | 22.09.03 | 07.05.04 |
| 11 | Shri ML Deori IFS | 07.05.04 | 16.03.05 |
| 12 | Shri Lalram Thanga IFS | 16.03.05 | 25.03.11 |
| 13 | Dr.NS Bisht IFS | 25.03.11 | 05.03.12 |
| 14 | Shri Liankima Lailung IFS | 06.03.12 | 29.06.12 |
| 15 | Shri Liandawla IFS | 29.06.12 | 29.03.17 |
| 16 | Shri Rosiama Vanchhong IFS (PCCF) | 29.03.17 | 28.02.18 |
| 17 | Shri Liandawla IFS | 05.03.18 | 05.06.18 |
| 18 | Shri Dr. Ch. M. Rao IFS | 06.06.18 | 08.04.19 |
| 19 | Shri Liandawla IFS | 08.04.19 | |
3.2 Divisions and headquarters
Sl.No.

Name of Wildlife Division

Headquarter

Protected areas

District

1

Aizawl Wildlife Division

Aizawl

Tawi WLS
Khawnglung WLS
Thorangtlang WLS
Puareng WLS

Aizawl

Lunglei

Lunglei

Kolasib

2

Field Director, Dampa Tiger Reserve

W.Phaileng

Dampa Tiger Reserve

Mamit

3

Chhimtuipui Wildlife Division

Lawngtlai

Phawngpui National Park
Ngengpui Wildlife Sanctuary

Lawngtlai

Lawngtlai

4

Khawzawl Wildlife Division

Khawzawl

Murlen National Park
Lengteng WLS

Champhai

Champhai

5

MADC Forest Department

Saiha

Tokalo WLS

Saiha
4. Map of Divisions and Protected Areas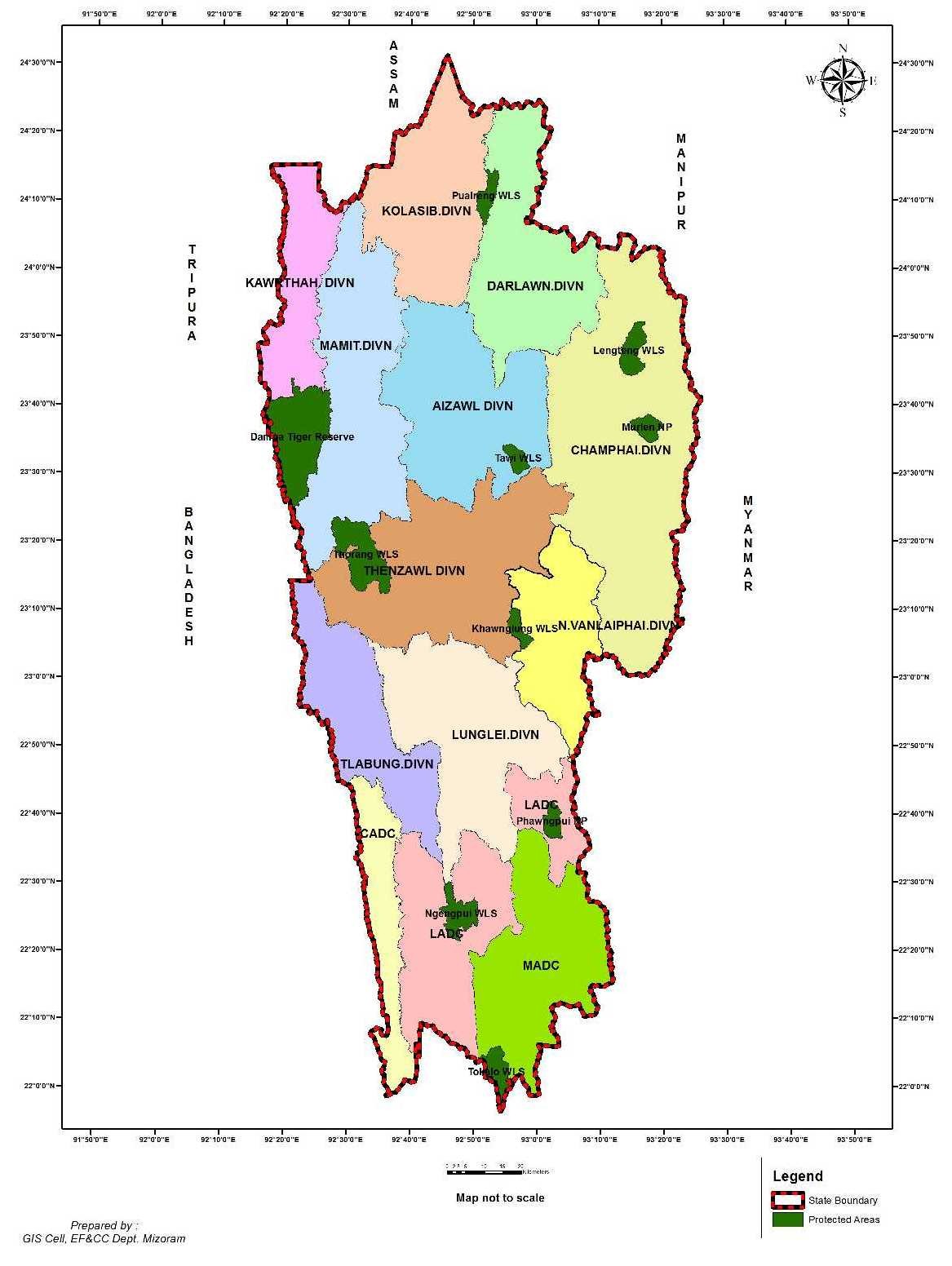 For checklist of mammals of Mizoram click here