DAMPA TIGER RESERVE
Location
23o32'42"- 23 o 41'36" North Latitude and 92o13'12"- 92o 27'27" East longitude.
Altitude
200 m. -1200 m above MSL
Area
500 Sq. Km (core) & 488 Sq.Km (buffer)
No of fringe villages
W. Phaileng, Teirei, Damparengpui, Tuipuibari, Lallen, Saithah, Serhmun, Phuldungsei, Pukzing, Khawhnai, W. Phulpui and Silsuri
Officer Incharge
Field Director, Range Officers.
Distance from Aizawl
127 Kms.
Rainfall
2000 – 2500 mm/year.
Best season to visit
October – April
Important wild animals
Tiger (Sakei), Elephant (Sai), Gaur (Indian bison), Leopard (Keite), Jungle Cat (Ngharbawr), Wild dog (Chinghnia), Binturong (Zamphu), Serow (Saza), Wild boar (Sanghal), Bear, Malayan sun bear (Samang), Assamese macaque (Kham zawng), Stump-tailed macaque (Zawng mawt/Zawng hmaisen), Leaf monkey (Dawr), Hoolock bibbon (Hauhuk etc.
Important Birds
Great Indian Hornbill (Vapual), Wreathed Hornbill (Kawlhawk), Pied hornbill (Vahai), Imperial pheasant (Bullut), Bhutan peacock pheasant (Varihaw), Khaleej pheasant (Vahrit), Red jungle fowl (Ramar), Red headed-trogon (Varalthi) etc.
Amphibians and reptiles
Amphibians (Uchang) – 20 species, reptiles (rul leh tangkawng lam) – 43 species and out of 43 species identified 16 species are lizards (laiking lam chi) respectively.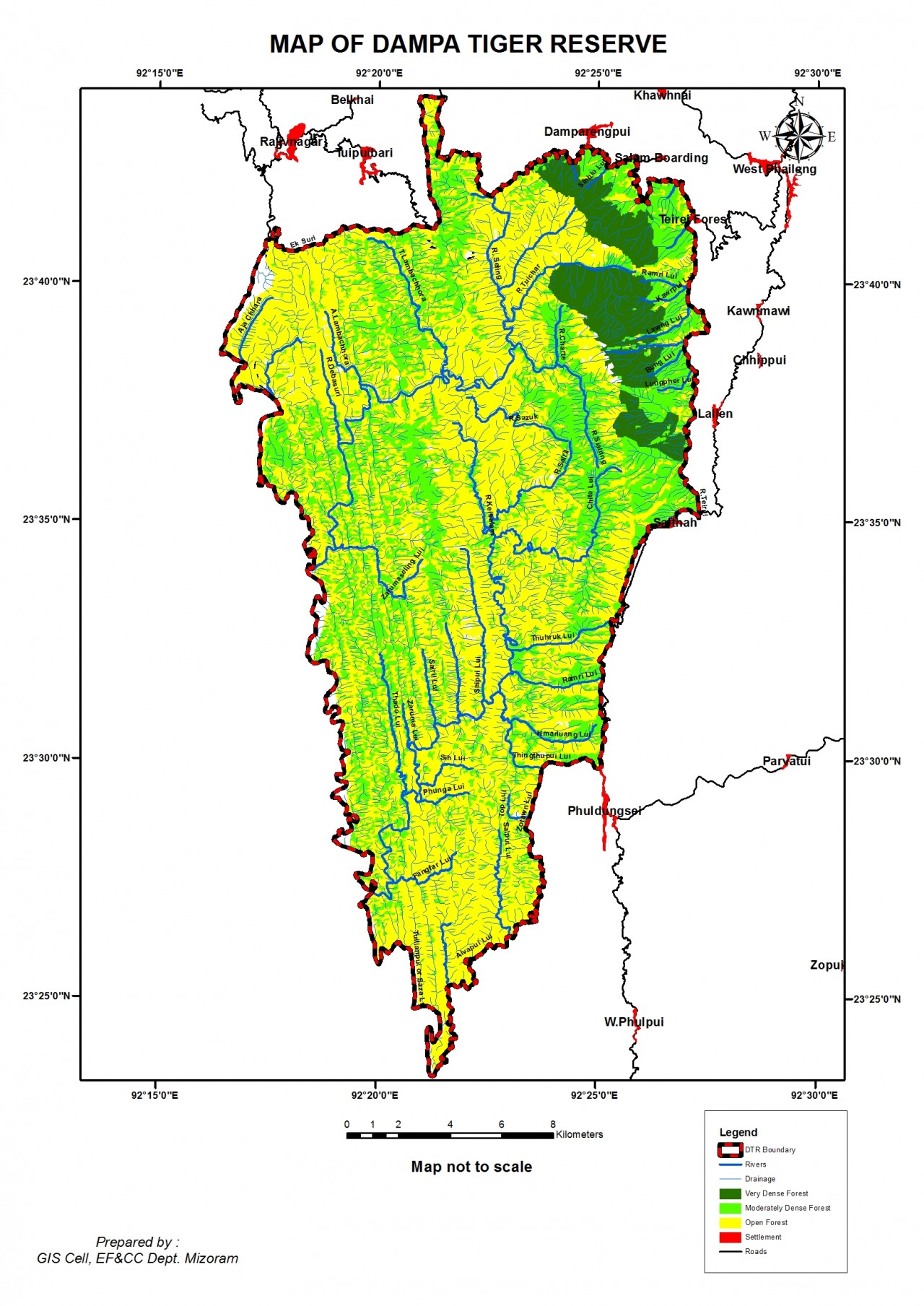 For Dampa Tiger Reserve video, please click here