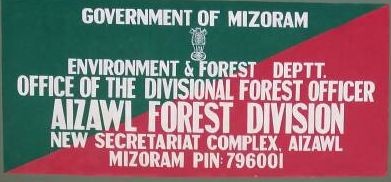 1. Introduction
Aizawl Forest Division is the oldest forest Division in the state. It was created in 21st January, 1972 with its headquarter at Aizawl. It was then reconstituted since other forest Division have been curved out of the old Aizawl Forest Division. The latest Aizawl Forest Division reconstitution has been notified vide Government Order No. FOR.335/85/130 Dt 28th April, 1986 wherein the Headquarters of the Division is Aizawl.
In the North, Aizawl Forest Division is bounded by Kolasib Forest Division and Darlawn Forest Division. In the west, it is bounded by Mamit Forest Division and bounded by Thenzawl Forest Division in the south. In the east, it is bounded by Champhai forest Division.
2. Area: The total area of the division is 1730.79 Sq.Kms approx.
3. Location: Aizawl Forest Division is located in the heart of Mizoram between 23056'4.7"N to 23º24'16.3"N Latitude and 92º34'50.6" E to 93º02'37.0" E Longitude.
4. Ranges: Aizawl Division is divided into five Forest Ranges. The name of Forest Ranges and its geographical areas are listed in the table below:
Table: Forest Ranges under Aizawl Forest Division
Sl.No.

Name of

Forest Ranges

Total Geographical

Area (Sq. Kms)

1

Aibawk

286.47

2

Aizawl

485.26

3

Sairang

95.42

4

Saitual

493.35

5

Seling

370.29

Total

1730.79
It is roughly estimated that 16% of Aizawl Forest Division is covered with Reserved Forest forests, and approximately 84% of the total area falls within the community land and inhabitation of the people.
5. Riverine Reserve: All the Forest Ranges under Aizawl Forest Division are having Riverine Reserved Forests, namely:
1. Tlawng RRF under Aibawk Range, Aizawl Range and Sairang Range
2. Tuirial RRF under Aibawk Range and Aizawl Range
3. Tuirini RRF under Saitual Range and Seling Range
4. Tuivawl RRF under Saitual Range
The distribution and area of Reserved Forests under different ranges are tabulated below:
Table showing name of range, area of range and reserved forest
| | | | | | | |
| --- | --- | --- | --- | --- | --- | --- |
| Name of RF | Aibawk Range | Aizawl Range | Sairang Range | Saitual Range | Seling Range | Total |
| Tlawng | 14.69 | 26.98 | 22.41 | - | - | 64.08 |
| Tuirial | 13.93 | 33.74 | - | - | 32.99 | 80.67 |
| Tuirini | - | - | - | 12.68 | 29.39 | 42.07 |
| Tuivawl | - | - | - | 35.00 | - | 35.00 |
| Muthi | - | 8.25 | - | - | - | 8.25 |
| Chalfilh | - | - | - | 30.99 | - | 30.99 |
| Hmunulh | - | 1.05 | - | - | - | 1.05 |
| Aizawl-Silchar Roadside | - | 10.87 | 10.62 | - | - | 21.49 |
| Total RF Area | 28.62 | 80.89 | 33.03 | 78.67 | 62.39 | 283.60 |
| Other areas | 257.85 | 404.37 | 62.39 | 414.68 | 307.90 | 1447.19 |
| Total Geographical Areas | 286.47 | 485.26 | 95.42 | 493.35 | 370.29 | 1730.79 |
Notification for creation of RF under Aizawl Forest Division are tabulated below:
Sl/No.

Name of R.F

Notification No

And date

Remarks

1

Tlawng RRF

A.D.C. supplement to

The Assam Gazette

19 May 1965, 27

Tlawng RRF over laps

Aijal – Silchar Roadside

RF mentioned in

Sl/No. 5

2.

Tuirial RRF

- do -

3.

Tuirini RRF

- do -

4.

Tuivawl RRF

- do -

5.

Aijal-Silchar

Roadside RF

- do -

6.

Muthi RF

No.B.11014/91/FST

Dt. 14.10.1991

7.

Chalfilh RF

FOR 135/76/6 the

13th July '76 GOM.

8

Hmunulh RF

No.L.11011/1/95-REV, Dt.16.05.1996.
6. Flora
The forest of the area within the Aizawl Division has not been surveyed for classification which can be accepted as authoritative. However, according to observation and study of forests of the area, the area consists of the following tree/bamboo/cane:
The overwood consist of Artocarpus chaplasha (Tatkawng), Dipterocarpus turbinatus (Lawngthing), Pterosperum acerifolium (Siksil), Pterygota alata (Lenglep), Chukrassia tabularis (Zawngtei), Michelia champaca (Ngiau) , Sapium baccatum (Thingvawkpui), Emblica officinales (Sunhlu), Bombax ceiba (Pang), Terminilia myriocarpa (Char), Mesua ferrea (Herhse) Toona ciliate (Tei), Bischofia javanica (Khuangthli), Phoebe spp (Bul), Acrocarpus fraxinifolius (Nganbawm), Gmelina arborea (Thlanvawng), Albizzia chinensis (Vang), Schima wallichii (Khiang) Alstonia scholaris (Thuamriat), Dillenia pentagyna (Kaihzawl), Cinnamomum spp.(Thakthing chi).
Among the palm species, Pandanus odoratissimus (Ram Lakhuihthei), Caryota mitis (Meihle), C.urens (Tum) are present in small populations.
The overhead floristic composition consist of Palaquium polyanthum (Hnaibung), Artocarpus chaplasha (Tatkawng), Mangifera sylvatica (Haifavang), Syzygium spp. (Lenhmui), Amoora wallichii (Sahatah), Mesua ferrea (Herhse), Calophyllum polyanthum (Thingvawkpui), Aquilaria agallocha (Thingrai), Sterculia urens (Pangkhau), Canarium spp. (Beraw), Podocarpus neriifolia (Tufar suak / Khawreng far), Lagerstroemia speciosa (Thlado), Duabanga grandiflora (Zuang).
Of bamboo, Melocanna baccifera (Mautak), is predominant, Bambusa spp, Dendrocalamus spp is common, and Pseudostachyum polymorthum (Chal) are rare species.
Of cane species, Calamus spp. (Hruipui) etc, Zalaca baccarii (Thilthek), Plectocarpia khasiana (Mawt) are common and Barassus flabellifera (Sial lu), Licula peltata (Laisua) and Typha elephantiana (Sakuh lakhuih) are common palms. The under storey consist of evergreen undergrowth with a few palms.
The moribund species are climbers like Entada scandens (Kawihrui), Acacia megaladena (Khang sen), Acacia pennata (Khanghu) etc. Combretum roxburghii (leihruisen), Eupatorium odoratum (Pholeng / Tlangsam).
Bamboo brakes are often very dense, even if the bamboos grow in clumps. The bamboos tend to be of the smaller types rather than the big clumped species. Meanwhile, poor quality bamboos are found in the heavily jhum areas. Also in previously good bamboo area the soil is much impoverished now due to repeated jhuming. In the open muli bamboo forest, the culms area whippy, mixed thatches, scrub jungle and occasional trees of miscellaneous species. Number of stems is very less.
An impenetrable thorny thicket sometimes with a few tall trees standing over it sometimes without. The stems are typically trailing and may be 60 meter or more long but some species are more or less erect.The species found are Calamus spp, palms such as Licuala peltata (Laisawral), Areca catechu (Kuhva), Caryota urens (Meihle), Borassus flabellifer (Sailu), Pinaga gracilis (Tartiang).
A number of ferns are also found in the area like Pteridicum equilinum (Arthladawn), Osmunda claytoniana (Katchat pui), Diplazium escuilentum (Chakawk) etc.
The site indicator species commonly found are Euphorbiaceous genera Macaranga indica (Hnahkhar), Mallotus phillipinensis (Thingkhei), Trema orientalis (Belphuar).
7. Fauna
Aizawl Division is rich in variety of wildlife. Due to the customary habit of hunting earlier and due to the forest type, it is normally difficult to see animals. However, there are about 58 species of mammals including smaller animals. Reptiles and fish population is also rich. Apart from vertebrates, a large number of invertebrate animals are also found in this forest but to a very limited numbers. The Wildlife commonly found in the R.F. are given below:
Mamalia: Awr-rang(Malayan Giant Squirrel), Bak-sai(Indian Flying Fox), Bui (Short-tailed Mole), Bui-sen(Bay Bamboo Rat)Chai-chim (Indian Field Mouse), Che-pa (Northern Tree-shrew), Chhim-tir(Grey Musk Shrew), Chinghnia (Wild Dog/Dhole), Dawr(Phayre's Leaf Monkey), Hauhuk(Hoolock Gibbon), Hleikapsen(Red-bellied Palla's Squirrel), Hleilubial(Orange-bellied Himalayan Squirrel), Keipui (Tiger), Keisen(Golden Cat), Keite(Leopard), Kelral(Clouded Leopard), Mang-tir/Sa-mang(Malayan Sun Bear), Ngau(Capped Langur), Nghar-thing-awn(Spotted Linsang/Tiger Civet), Ngharbuang(Fishing Cat), Phivawk(Hog Badger), Ramsial/Sele(Indian Bison/ Gaur), Sa-huai(Slow Loris), Sahram(Clawless Otter),Sakhi(Barking Deer) ,Kuhsi (Asiatic Brushtailed porcupine), Sakuh(Himalayan Porcupine), Sanghal(Wild Boar), Sanghar(Leopard Cat), Saphu(Chinese pangolin),Sa-phai-ruang(Crab-eating Mongoose),Sathar(Goral), Sanghar/Sa-uak(Jungle Cat),Savawm(Himalayan Black Bear), Saza (Serow), Sa-zaw /Zaw-buang(Himalayan Palm Civet),Sa-zaw (Toddy Cat/Common Palm Civet), Sazuk (Sambar), Sihal(Bengal Fox), Tlum-therh(Small Indian palm Civet), Tlum-pui(Large Indian Palm Civet), Vahluk (Common Flying Squirrel), Zamphu(Binturong/Bear Cat), Zawng(Rhesus Macaque), Zawng-mawt(Stump-tailed Macaque), Zawng-hmeltha(Pig-tailed Macaque), Zutam (Bandicoot Rat),Zuthel(White-tailed Wood Rat),
Birds: A large number of birds are found in rich forest some of which are rare and endangered species. The names of birds commonly found are listed below:
Bawng (Scarlet Minivet), Bemkawng (Grey Tree Pie), Buarchawm(Blue-Naped Pitta), Bullut (Mountain Imperial Pigeon), Changkak (Black Drongo), Changkak-te/Thlanthla (Bronzed Drongo), Changsen (Maroon Oriole), Chang-hlawi (Lesser Racket Tailed Drongo), Chawngzawng (House Sparrow), Chhawlhring-lu-eng (Orange-Bellied Leafbird), Chhawlhring thla-paw (Blue-Winged Leaf Bird), Chhemhur (Black Headed Shrike), Chhimbuk (Spot-Bellied Eagle Owl), Chhimbuk (Common Scops-Owl), Chhuangtuar/Va-se-ek (Hoopoe), Chingpirinu (Brown-Wood-Owl), Chip (Olive-Backed Tree Pipit), Choak (Jungle Crow), Dawithiamarpa (Mrs.Gould's Sunbird), Dawithiamarpa dul-sen (Crimson Sunbird), Dawkek (White-Throated Bulbul), Dawntliang (Green Magpie), Fanghmir thloh (Pale-headed Woodpecker), Tlakawrh (Blue-Tailed Bee-Eater), Hrangkir (Asian Barred Owlet), Hrangkir (Collared Pygmy Owlet), Irliak (Large Cuckoo Shrike), Irliak-te (Black-Winged Cockoo Shrike), Kawr vaiva (Collared Myna), Kaikuangral awm sen (Crested Kingfisher), Kaikuangral te chi (Black-Backed Kingfisher), Kaikuangral (Common Kingfisher), Kawlrit (Brown-Eared Bulbul), Kawlva sir (Red Winged Shrike-Babbler), Khawimual chinrang /Lailen (White Wagtail), Kham-va-mur (Dark Backed Swift), Kiltheihrawk (Common Hawk-Cuckoo), Kireuh (Streaked Spider Hunter), Ko-ro/Ko-ro-lu-par (White-Crested Laughingthrust), Kulherh (Hair Crested Drongo), Lailen (Grey Wagtail), Laruanga Sehnawt (Greater Coucal), Lawizit (Ruby-cheeked sunbird), Lengder (Ashy Wood Swallow), Liandorit (Black bulbul), Lungdup (Black Eagle), Luangtu-beuh/Mau thloh (Rufous piculet), Mangkhaia-ral-veng (White Tailed Lapwing), Mawntaipirtliak (Lesser Cuckoo), Mimsirikut (Bar-Tailed Cuckoo Dove), Mitval (Indian White Eye), Mu-arla (Crested Honey Buzzard), Limchho (Brown-Throated Tree Creeper), Mimsirikut (Rufous Turtle Dove), Muchhia (Black Kite), Mungek (Peregrine Falcon), Mu-ni-ngal-dang (Crested Goshawk), Mu-te (Besra), Mu-kel-rang (Black Baza), Mu (Common Buzzard), Muvanlai (Crested Serpent Eagle), Ngal Vapual (Coral-Billed Scimitar-Babbler), Ngawihup/Kawlpui Saruhhak (White Bellied Heron), Ngaw Lailen (Forest Wagtail), Pengleng (White-Rumped Swift), Pengleng – dum (Brown-Backed Needle Tail Swift), Phai-ko-ro (White-Headed Shrike-Babbler), Phai Tlaiberh (Red-Whiskered Bulbul), Phai Tawllawt (Lineated Barbet), Pit Ngum-var (White Rumped Munia), Ram Chawngzawng (Little Bunting), Ram Parva(Emerald Dove), Ram Varak (Pintail), Ram va-mur (Himalayan Swiftlet), Ramar (Red Jungle-fowl), Vaiva (Hill Myna), Rungmal/Varung (Rufous-Throated Partridge), Se-tawt/Lalruanga Se-tawt (Blyth's Bulbul), Sial-sir/Thla-kawi(Redlegged Falcon), Sir-bial/Sir lu bial (Rufous-backed Sibia), Suklet(Chestnut vented Nuthatch) , Suklet(Velvet Fronted Nuthatch), Tahngai (Barn Owl), Thangfenpabawp (Indian Cuckoo), Thizil (Long-tailed Broadbill), Thlanthla (Ashy Drongo), Thlohpui/Thloh Sai (Greater Golden Backed Woodpecker), Thloh kawr-ha (Stripe-Breasted Woodpecker), Thloh kawr-ha (Fulvous-Breasted Woodpecker), Mau-Thloh /Luang-tu-beuh (Speckled piculet), Thlohsai(Great Slatey Woodpecker), Thlohkawrha(Stripe-Breasted Woodpecker), Thuro(Spotted Dove), Tlaiberh (Red-Vented Bulbul), Tlakawrh (Chestnut Headed Bee-Eater), Tuitu (Brown fish Owl), Tui-ar (White Breasted Waterhen), Tuiva/Kawr-uak (Little Green Heron), Tui Sava var zang hang(Night Heron), Tui-mal-far-fep-fep (Drongo Cuckoo), Tukhum vilik (Black-Crested Yellow Bulbul), Tuklo (Blue Throated Barbet), Tuklo Bengngawng (Blue-Eared Barbet), Vabak (Grey Nightjar), Vachiap (Striated Bulbul), Vadartle (Fairy Bluebird), Va Darkhuang (Lesser Coucal), Vahai (Indian Pied Hornbill), Vahlah (Bamboo partridge), Vahmim (Barred Button Quail), Vamur (House Swift), Varung (White-Cheeked Partidge), Vahrit (Kalij Pheasant), Vazawng (Assam Red Headed Parrotbill), Va-zawng/Va-Hnang-Hlai (Spot-breasted Parrotbill), Vahui (Green Pigeon), Vahui /Huipui thla ki sen (Wedge-Tailed Pigeon), Valei sawt (Streaked Wren-Babbler), Vai-buar-chawm (Blue Pitta), Vaki (Rose-ringed Parakeet), Vakul (Greater Racket-tailed Drongo), Vamaitai - lu eng (Slender-Billed Oriole), Vamaitai-lu dum (Black-Headed Oriole), Vamur (House martin), Vangai (Brown hornbill), Vapual (Great Hornbill), Vapui(Indian Roller), Varihaw (Grey Peacock Pheasant), Varul (Oriental darter), Varung (Common Hill Patridge), Va-ral-thi (Red-headed trogon), Vasuih (Common Rose-finch), Vasir (Grey Sibia), Vathu (Oriental Turtle Dove), Vazar (Necklaced Laughingthrush), Vazun (Green-billed Malkoha), Zotuklo (Golden-throated Barbet), Zo-bul-lut/Bul-lut-tial (Speckled Wood Pigeon).
8. Incumbency of DFO, Aizawl
| | | | |
| --- | --- | --- | --- |
| Sl.No. | Name of DFO | From | To |
| 1 | S.Ali IFS | 21.01.1972 | 12.01.1977 |
| 2 | C. Thangliana IFS | 12.01.1977 | 01.08.1984 |
| 3 | C.Ramhluna IFS | 01.08.1984 | 11.11.1989 |
| 4 | L.R.Thanga IFS | 11.11.1989 | 02.08.1993 |
| 5 | Rosiama Vanchhong IFS | 02.08.1933 | 29.06.1998 |
| 6 | Liandawla IFS | 29.06.1998 | 15.07.1999 |
| 7 | B.Suanzalang IFS | 15.07.1999 | 01.04.2002 |
| 8 | Hmingdailova Colney IFS | 01.04.2002 | 29.06.2005 |
| 9 | Lalthangliana Murray IFS | 29.06.2005 | 05.03.2010 |
| 10 | V.Lalfala IFS | 05.03.2010 | 01.06.2015 |
| 11 | Lalthlamuana Pachuau IFS | 01.06.2015 | 20.05.2016 |
| 12 | Saurabh Sharma IFS | 20.05.2016 | |
9. Map of Aizawl Forest Division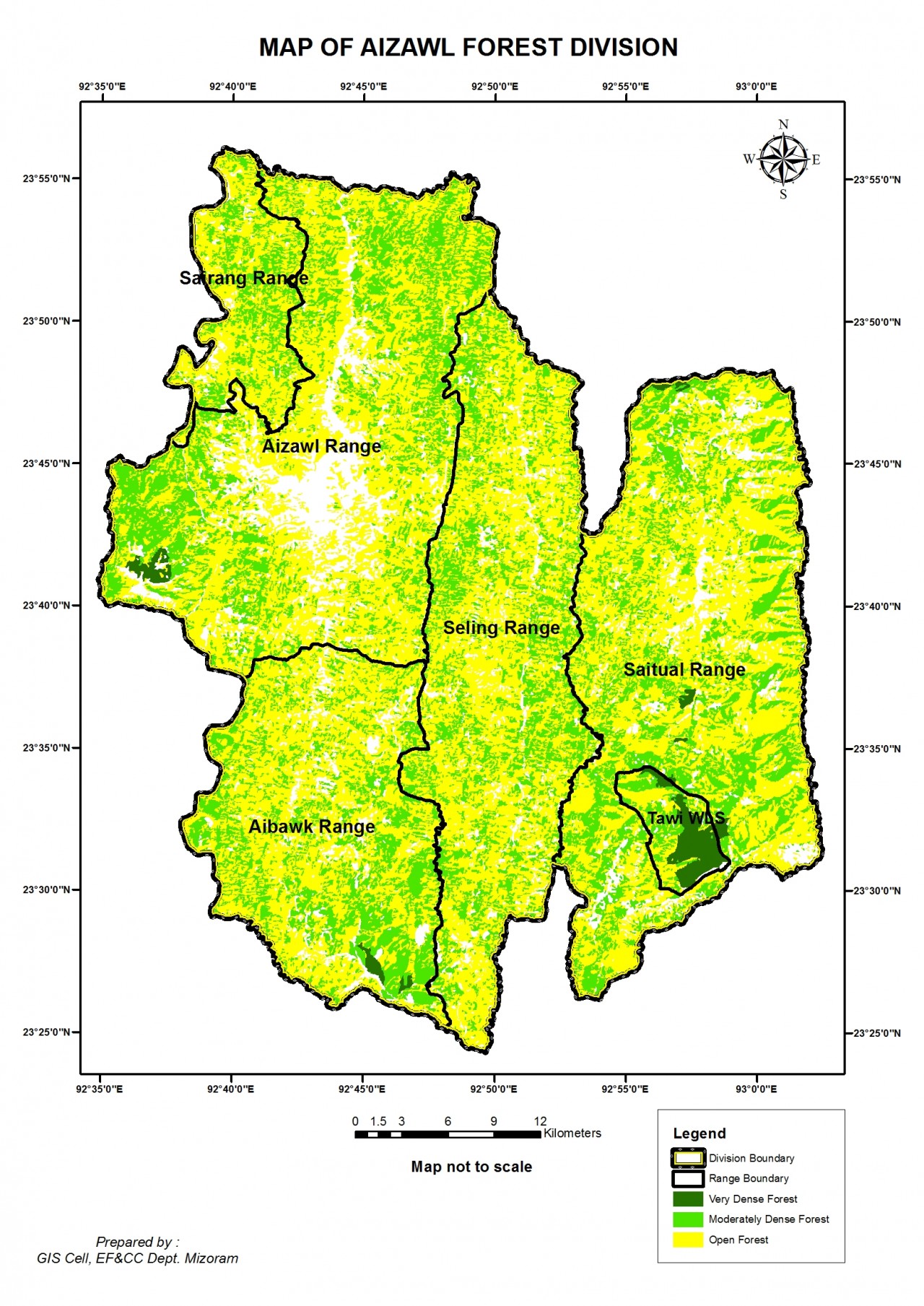 Contact: Divisional Forest Officer
Aizawl Forest Division
New Secretariat Complex, Aizawl
Mizoram-796001
Phone: 0389-2334713
Fax: 0389-2334680